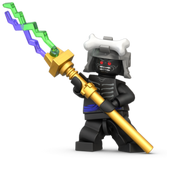 Garmatron (evil Lord Garmadon in season 5) is a major antagonist in the possible Lego Ninjago Season 5-I Was Born To Be A Ninja and is one of Skeals's powers in the possible  Ninjago Season 4-Return Of The Snakes. in his first appearance as a body he wanted to be the new dark overlord but because Skeals won him in a venom pitt fight he became Skeals's left hand vice. his biggest enemy is the good Lord Garmadon.
Ad blocker interference detected!
Wikia is a free-to-use site that makes money from advertising. We have a modified experience for viewers using ad blockers

Wikia is not accessible if you've made further modifications. Remove the custom ad blocker rule(s) and the page will load as expected.